4. GameDay Brew Bruins @ Hurricanes
1-2? 1 and fucking 2? Unacceptable for a team that's going to repeat as Stanley Cup Champions! I don't know about you guys, but I expected this teeam to win 70 games, at least. 140 points isn't a stretch when you have guys like Seguin, Marchand, Thomas and Lucic on the team. DOOD, LOOCH IS THE FAHKING MAHN BRO. DID YOU SEE WHEN HE PUT THAT DOOD FROM TORANTO THROUGH THE GLASS? THAT BITCH IN THE SEAT WAS SHOWAHD IN GLASS. AW, IT WAS WICKED!
So yeah, the Bruins are 1-2, Milan Lucic is lost on the ice, Nathan Horton is playing like he's in squirts and David Krejci isn't playing tonight because of a "body" injury. Well obviously Krejci has suffered a body injury. What other kind of injury would he sustain? An outer body injury? Is his aura hurt?
Anyways, I'll leave all the game preview stuff to Pizz because he's got the game preview. I'm here to talk about booze. So the
last GameDay Brew
was a total cop out. I'm not going to sit here and bullshit you people. It was Columbus Day and I had my two kids (7 and 2 months old) by myself all weekend because my wife had her last weekend class. I was tired. I woke up around 11 and said "Shit, I need to write a GameDay Brew" and googled "Columbus cocktail" and that's what came up.
Today isn't a cop out, though you may think it is one based on the name of the drink. It's an obvious choice. Look WHO the Bruins are playing. With that said, this drink is delicious and having a few of them will make you feel nice. There's a few ways to make them too. There's a frozen beverage, but I don't think my readers are high class enough to drink frozen beverages. I see us more as a
PBR
(fuck that, we're not hipsters!) Bud Light and no pants kind of crowd, not frozen mixed drinks and cruising to the Florida Keys kind.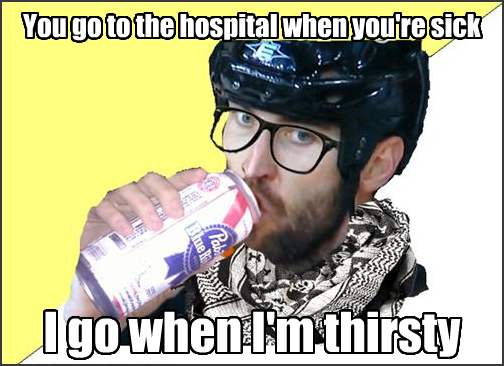 Credit to HFBoards for this bad boy



After the jump, booze time!

So the Bruins are playing the Hurricanes, so it's only fitting that tonight's GameDay Brew is...a Hurricane!


Hurricane #2 recipe
1 oz vodka
1 oz gin
1 oz light rum
1/2 oz 151 proof rum
1 oz amaretto almond liqueur
1 oz triple sec
grapefruit juice
pineapple juice
grenadine syrup
Pour gin, rums, amaretto, and triple sec into a hurricane glass with ice. Add equal amounts of grapefruit juice and pineapple juice until almost full. Top with grenadine to taste.
Serve in: Hurricane Glass
Hurricane Glass?
Watch out for that second glass man. It'll rob you blind.