Blackhawks Downlow
have such a bromance going on that both Seguinchand and Kaneows are jealous. They both emailed me and told me so. So the "Bro-down Throwdown" has begun my friends. The Bruins are a pathetic 1-4 while the Blackhawks squeaked by Canada's new princess, the Winnipeg Thrashets. You like that one? Maybe I'll use it when the Bruins play them,
maybe
.
(So take this all in jest people, I do love Chicago)
I've never really had an issue with the Blackhawks. They all seem like stand up gentlemen...except for:
Oh man, are you ready?
Jonathan Toews hates children. There's no doubt in my mind that he saw that kid there and just wanted to injure that little shit kicker. My inside sources tell me that Kelly from Blackhawks Downlow was on the other side of an earpiece worn by Toews and was instructing him to run these children over. I also found more damning video of Toews being mean to children.
Wow. What an asshole huh. Plus, who dresses up like a bear?
I can't be mad at Toews though. He's a stand up kind of guy. Sure, he hates children and eats their innerds before games to keep himself young, but who doesn't these days? He's no Dan Carcillo. Oh, you remember Carcillo right? Of course you don't because he sucks at hockey! The guy is a fucking waste of space on that ice, but the Blackhawks signed him because apparently the Blackhawks love douchebags.
Dan Carcillo couldn't spell hockey if you gave him the H-C-K-E-Y. He's a fucking idiot and he needs to see a dentist in the worst way. First off, look at his mouth. He's got those two front teeth missing because
someone probably knocked them out
he's such a stupid douche he fell down the stairs. He's a caveman, bro. He looks like Alexander Ovechkin's retarded cousin who follows him everywhere he goes to get it in with the fatties Ovechkin didn't bang. Why Chicago would ever sign him is beyond me. You're better off with the GIECO caveman. Between the shitty commercials, the shitty hockey commercials and the shitty television show, he's more talented than Carcillo which isn't hard because he sucks at life.
So Jonthan Toews hates children and Dan Carcillo is a retarded monster, but they're no Patrick Kane.
My disdain for Patrick Kane should be well known at this point. There's a multitude of reasons, but let's just make a quick bullet pointed list.
You have a shitty mullet.
You punched a cab driver, you drunk asshole.
You and John Madden (and not even the good John Madden) got caught drinking in a limo with a bunch of puck sluts
You're a virtual ginger
NHL 10 sucks and you're the main reason
Let's go down this list one by one.
1.
You have a shitty mullet.

I bet everyone in Chicago was squirting in their Cubs jammies when Kane rocked a mullet in the playoffs two years ago. There was a problem with it though, he looked like an asshole. "OH HEY GUIZE, LOOK AT THE STRIPES ON MY HEAD, ISN'T THAT SO BADASS AND RETRO?" The kid belongs on Jersey Shore, getting his ass kicked by some juiced up Gorilla because his ginger-eqsue face tried to "slickly" move in on some herpe-laden orange whore. Let's be honest, the true king of the "Modern Day Mullet" is Adam McQuaid.
Why you ask? Well the mullet should only be worn by tough guys. Patrick Kane could get the shit kicked out of him by a third grader, especially because there are third graders taller than him. McQuaid, on the ice, is a big, bruising guy who is "one tough hombre". If Kane and McQuaid were to go to jail, Kane would get passed around like currency, being traded from one prisoner to the other for a trash bag full of Ramen Noodles and three Newport cigarettes. This leads me to my next point...
2.
You punched a cab driver


You can't forget that. Patrick Kane punched a Buffalo cab driver over 20 fucking cents. Apparently he was arrested and it's to bad he never went to jail. Nothing says wake up like a big burly Spanish dude cornholing you at 4am. Seriously though, you make how much money and you punched a cab driver? Must be nice to pound down 3 Bud Lights and get so drunk you stammer around Buffalo and then hit a cab driver. If I was that cab driver, I would've beat Patrick Kane like no other, then went to jail, then stabbed the biggest dude I could find in the mess hall just for credibility. I know how that jail system works, I've seen "Jail" on TV mother fuckers!
3.
You and John Madden (and not even the good John Madden) got caught drinking in a limo with a bunch of puck sluts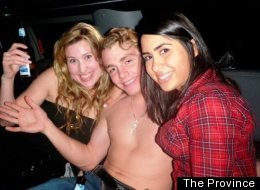 Enough said.
4.
You're a virtual ginger
Nice one there Kaner. You look like a retarded version of Wolverine. Days of Y'Orr spent a month straight ripping on the ginger twins from the north, the Sedin brothers. I haven't even spent my time on this fucking guy. Good at that terrible beard. Maybe he should join the Pez School of Beard Growing and I can teach him how to grow a
REAL playoff beard
.
5.
NHL 10 sucks
Not much to say there, is there. NHL 10 sucks and your stupid picture was the cover.
Those three players aren't the only reason that Chicago sucks. There's a multitude of reasons. Need some? OK!
Chicago Cubs


The Cubs are called the Loveable Losers because they suck at life. Wrigley Field should be named the Field of Shame. Think about all the "magical" things that's happened to the Cubs over the years.
Curse of the Billy Goat
Black Cat on the field
Steve Bartman
Take me out to the ball game
The three most memorable events are the Cubs failing! Look, no fucking goat is going to curse a team. It's just not going to happen. Just like there was no "Curse of the Bambino" there's no "Curse of the Billy Goat". The Curse of that fatass Bambino was written by Pubic Hair Shaughnessy so he could sell more books. The "Curse of the Bill Goat" is just a way to make Chicago feel better about sucking. The Cubs couldn't win a World Series in MLB The Show, let alone in the real MLB. Hell, even that stupid black cat running onto the field isn't a curse. It's probably just someone's dinner on the Lower East Side running away from the boiling pot of water.
Shit, the Cubs suck so much that ESPN actually made a documentary called "
50 Years of Losing
".
It's not just those curses. Remember Steve Bartman and the tantrum that pussy Moises Alou had after Bartman caught the ball? First off Alou, you're one of the worst outfielders I've ever seen in my lifetime of watching baseball. The real reason he retired was because Bud Selig wouldn't allow him to ride around in his rascal to shag flyballs. So when Bartman caught that
foul ball
, Alou throws a shit-fit like a three year who can't get a toy in Target and the rest of those drunken douchebags known as Cubs' fans follow suit. Instead of threatening some kids life why don't you yell at your bullpen who blew the game quicker than Patrick Kane blows his nut in the back of a limo.
The worst...the absolute worst thing about the Cubs though? Take me out to the ballgame. First off, it's the worst fucking song sung in the majors, period. When you have the likes of Ozzy Osbourne
singing
mumbling this song, you know you've hit the turd streaks of the celebrity world.
Also, I'm glad Harry Carey is dead so I don't have to listen to him mumble on about the Cubs. The fucking guy needed subtitles.
You know you're a shitty franchise when your biggest accomplishment is electrocuting a baseball. You turds.
Re-naming the Sears Tower


Really? You're going to rename the Sears Tower? For those that don't know what the fuck I'm talking about, the Sears Tower is a skyscraper in Chicago. It's now the tallest building in the United States, which I guess why it's famous. The building has been known as the Sears Tower since 1969 but in typical Chicago fashion they fucked that up when it was renamed to the Willis Tower in 2009. It would be like Boston renaming the John Hancock Building to the "Who The Fuck Knows But We Love The Money" building.


Deep Dish Pizza Deep Throats Donkey Dick


Deep Dish Pizza is disgusting. I've had it once and I'll never eat it again. If you truly want the experience of eating a deep dish pizza don't go to Unos. Don't go to Dominos. Grab a frying pan and take a hot, wet, shit in it and put some pepperoni on top of it. That's all you need.

Chicago White Sox


Another shitty baseball franchise, but at least they won something since I've been alive. The White Sox are the red-headed step child of the Chicago Cubs. When baseball season starts, everyone in Chicago is a Cubs fan. When April ends and people realize that the Cubs are mathematically eliminated from the playoffs everyone puts their blue hat away and picks up a black one. The best thing to ever happen to Chicago was Ozzie Guillen and management ran him out of town because they didn't like the cut of his jib.
You can keep Jake Peavy and is 4.92 ERA while our pitchers get fat and eat fried chicken. That's the American Dream. At least we didn't run our manager out of town because our management is a bunch of pussies.
Wait.
Fuck.
The only redeeming quality for Chicago is that they aren't Philadelphia. They have a statue of a REAL athlete:
WHO NOW ROCKS A HITLER STACHE!
It looks like Scottie Pippen Dirty Sanchez'd him while Horace Grant watched this those terrible goggles on.
I think I'm done here. Expect a real preview tomorrow.